Away with all the dishes and ballast from 2021! We are going to 2022 in good spirits...
This towel shelf is in any case suitable for clean dishes!
07-01-2022, 12:00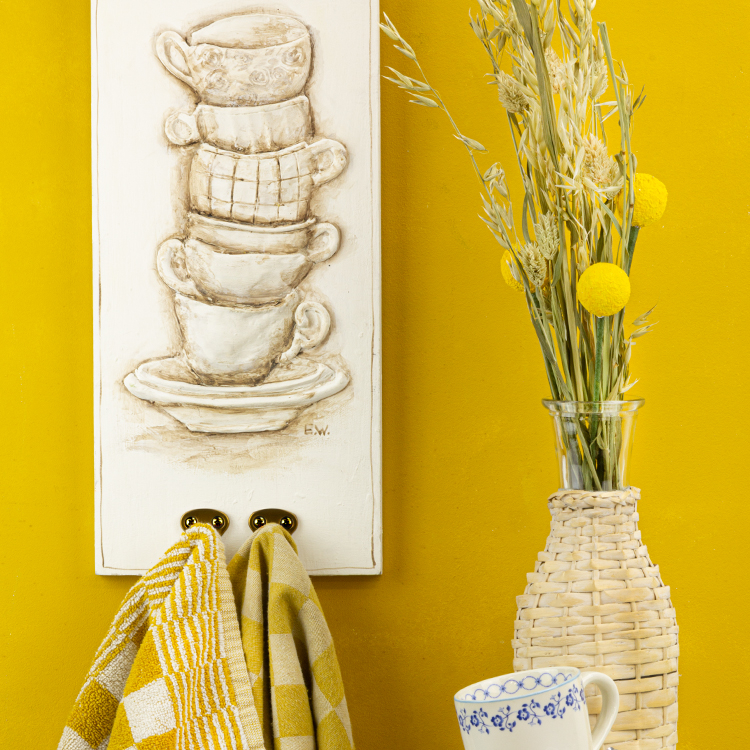 How do yo do this?
Paint the board white on all sides.
A few thin layers with drying in between is better than one thick layer.
Draw some saucers and cups on top of each other.
Draw some cups or copy some models from pictures or photos.
Trace them onto the wood. Use graphite paper for this.
Now mold the cups from top to bottom and stack them together, as it were.
A little glue between wood and clay increases the adhesive strength.
Make the top edge a little thicker for each cup and a little thinner at the bottom, then you get a real stack optically. Let everything dry well.
Mix with Retarder Medium and Provincial Beige a soft blend and paint shadows and depths. Do this a little later with Burnt Umber and Retarder medium.
However, keep everything very light and soft.
The small lines along the outer edge give the shelf a frame idea.
Paint the lines with diluted paint and a Liner brush.

What do you need?
Do & Dry white 1000 gram no. 26000
Wooden shelf (scaffolding wood), spatulas, brushes
Jo Sonja's Retarder Medium nr.58603 (60ml) or 583703 (237ml).
White paint 42331
Provincial Beige No. 57029
Burnt Umber no.57007 (75ml) or 97007 (250ml).
Tacky Glue 44354/19776/94040
Have fun!